The Council of State on Thursday resolved that the Independent National Electoral Commission (INEC), should proceed with the Presidential elections slated for February 14, laying to rest speculations that the elections might be postponed.
The Council after an 8-hour deliberation on whether to shift the election date forward as canvassed by the Peoples Democratic Party (PDP), advised that the elections be held as scheduled, except for areas with security challenges.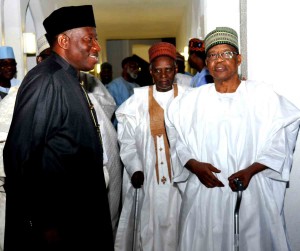 The meeting which lasted for seven hours in Abuja on Thursday advised the Independent National Electoral Commission (INEC) to go on with the elections in line with the constitutional provision.
INEC Chairman, Prof. Attahiru Jega, it was gathered had briefed the Council council that it was ready to conduct the election as scheduled.
The electoral commission was therefore asked to consider all inputs raised at the meeting and find ways to address them.
The meeting was attended by all former heads of state except Gen. Olusegun Obasanjo, who was conspicuously absent.
State Governors and leadership of the National Assembly also attended the meeting.
Meanwhile, the APC has hailed the decision of the National Council of State rejecting the proposal to postpone the February 14, 2015 presidential elections describing it as "triumph of the nation and its people over parochial individual and political interest."
In a statement by Malam Garba Shehu, Director, Media and Publicity of the APC Presidential Campaign Organisation, in Abuja Thursday, the party said the position of the Council of State vindicates the position of millions of Nigerians who are ready and keen on the elections and who want to change the circumstances of the country.
The statement said further that upholding the February 14, 2015 date and other scheduled dates for the election, confirms the sacrosanct nature of those dates as well as the May 29, 2015 handover date.
"We are heartened that a major crisis of political and constitutional nature has been averted which would have made Nigeria the laughing stock of the civilised world.
"The Independent National Electoral Commission (INEC) has always said it is ready for the polls, likewise all the security and intelligence agencies and more importantly, the Nigerian people, who are the voters. It would have been a terrible disservice if on the basis of personal interest the elections were postponed.
"No nation learns all the lessons of democracy at once thus it is the belief of our campaign that INEC, the electoral umpire still has the chance and is indeed determined and ready to organise credible polls next week and thereafter.
"We congratulate the masses of our people for the decision of the Council of State. This is a sure sign that Nigerian people are ready*Council of State: The nation triumphs -APCto sacrifice to back their country from the locusts which have turned it into a barren land."