Afenifere chieftain, Mr. Jimi Agbaje, has emerged winner of the People's Democratic Party (PDP) governorship primaries in Lagos.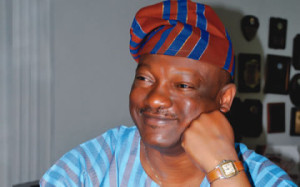 Agbaje polled 432 votes to defeat former minister state for defense, Mr Musiliu Obanikoro, who resigned his ministerial appointment to contest the party's candidacy.
Obanikoro followed closely with 360 votes out of the 836 total votes cast, while Mr. Deji Doherty, the third contestant got 21 votes.
Earlier in the day, the venue of the primaries had erupted in gun battle between supporters of Mr Agbaje and Obanikoro.
Reacting to his victory, Mr Agbaje said, "my first assignment is to get my co-aspirants on board."
Also, former Chairman of Economic and Financial Crime Commission (EFCC), Mallam Nuhu Ribadu on Monday won the Adamawa state PDP gubernatorial primary election.
Ribadu defeated governor Bala Ngilari of Adamawa, the son of former National Chairman of the PDP, Auwal Tukur and Markus Gundiri in the primary held at the old Parade Ground, Abuja.
The Presidential candidate of defunct Action Congress of Nigeria in 2011 election polled 688 out of 776 valid votes cast during exercise.
In Oyo state, former Senate leader, Teslim Folarin defeated former governor Adebayo Alao Akala and other governorship aspirants to clinch the PDP governorship ticket in the state.